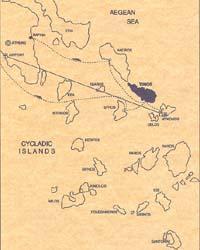 Click to Enlarge
Accomodations and Travel
Accommodation on the island is abundant and is available in all categories: beach resort, charming village houses, A and B class hotels, apartments and simple rooms with cooking facilities, all just minutes from the studio and beaches. The price of the workshop does not include accommodation, but by contacting our travel agent on Tinos you will be provided with prices and travel information to the island. To view available accommodation on the island go to www.tinos-tinos.com, or contact Sharon Turner at Windmills Travel and she will be pleased to send you details.
Ferryboats and high speed ferries run frequently between both ports of Athens and Tinos during the season. You will be given boat schedules to make an easy connection between Athens International Airport and either the port of Piraeus or Rafina. One may choose to stay a few days in Athens to visit museums and ancient sites before continuing on to Tinos. Our agent can help you with all necessary arrangements.
Cars are for hire on the island and can be booked either by the week or for the weekends for those who want to get out to discover the beauty of the island and villages. Sunday excursions can be planned to the near-by islands of Syros, Mykonos and Delos, where you will visit the best-preserved Ancient city in Greece, the mythical birthplace of Apollon and Artemis.