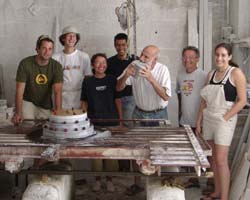 Sessions and Cost
Artists are welcome from May through October,, and are encouraged to work for no less than two weeks. Within that timeframe, and with the assistance and knowledge of the studio's staff, a carver is able to formulate - "to express in precise form" - a piece of marble sculpture.
A carver may join us anytime during the season with the approval of the studio. We keep the size of the groups small, no more than eight carvers at a time, so personal attention can be given to all participants.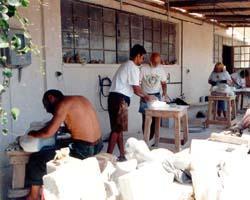 The cost of the first two weeks of work at the Studio is 980 Euro and each additional week after the first two weeks cost 400 Euro, or the equivalent amount in US Dollars. A non-refundable deposit of €250 Euro or $250 US Dollars must accompany your registration in order to reserve your space in the Studio. Your deposit may be made either by personal check or money order made payable to PETROS DELLATOLAS if received three weeks before your arrival. Currency rates fluctuate so sculptors paying their balance in US Dollars will be charged the exchange rate of the day they begin work. The balance of your payment is due the first day of work at the Studio. At that time, no personal checks are accepted for the balance, but can be paid by money order, travellers' checks or cash in local currency. Banks and cash machines are available in town for easy cash withdrawals.
For easy currency conversion go to http://www.oanda.com/