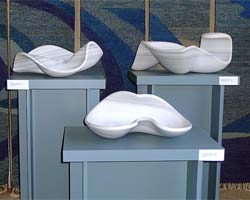 DELLATOLAS Marble Sculpture Studio News
January, 2007, Tinos, Greece
Now that we are in the midst of our quiet island winter, we'd like to share some of the exciting events that made 2006 a wonderful year for us, both personally and professionally.
We had a great year in the DELLATOLAS Marble Sculpture Studio with old and new friends alike, and wonderful sculpture was created throughout our 2006 sessions. No matter what else happens here, our greatest pleasure is sharing our garden and studio space with all of you. We thank you, who have come to work with us in Tinos, and look forward to meeting those of you who will make your way to the island in the future.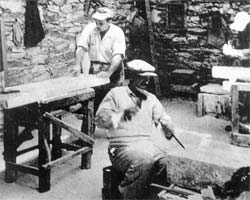 For the past year, Petros has been consulting for the Cultural Foundation of the Bank of Piraeus in the creation of a new and very exciting Museum of Traditional Marble Technology in the village of Pirgos on Tinos. Those of you who have worked with Petros know that there aren't many who know marble the way he does, so this has been a wonderful chance for him to contribute his lifetime of knowledge to this project. We hope the museum will be open this summer, so be here for your personal tour! (He's also anxious for it's completion so he can get back to his own work)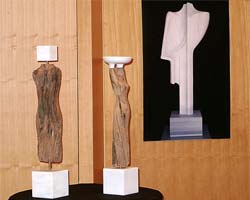 In June, sculptor Petros Dellatolas, painter Annette Fougnies and fiber artist Lefteris Kritikos, whose studio is an easy walk from ours, had an exhibition and open studio visit. It was a wonderful success for the three of us and we hope to plan another event for next year. For those of you who know Tinos, you won't believe that we had four consecutive days of NO WIND! Our studios were open to the evening air and the raki and hors d'oeuvres in our gardens were an added pleasure.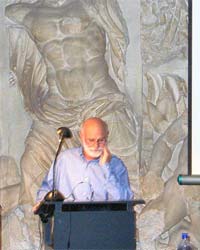 On September 15 we were in Basel, Switzerland where Petros was the guest speaker for the Cultural Circle of the Friends of Greece in Basel. The weekend was a Tinos celebration beginning with Petros's lecture at the Skulpturhalle Museum entitled "Marble Through the Eyes of the Artisan." While Petros gave a morning marble-carving workshop on Saturday, another Tinos resident, author, Nikoletta Foskolos gave a cooking demonstration that provided the appetizer buffet for the evenings catered dinner. Photographer Anina Jendreyko of Tinos/Basel showed her recent photos of Tinos.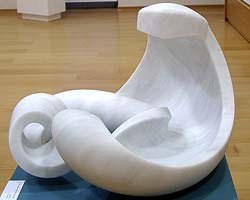 A new Palliative Care wing at Baylor University Medical Center in Dallas Texas will be the new home of Petros Dellatolas' sculpture, "Tethys." It is an honour to be a part of this new project at Baylor.
We hope you will join us in the studio for our 2007 season beginning May 7.
Looking forward to our meeting and working together!
Annette Fougnies and Petros Dellatolas