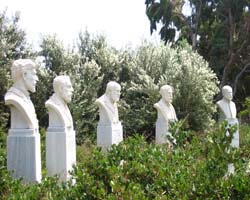 Tiniot carvers' busts
Tinos and Her Master Carvers
Five thousand years ago, for the first time in history, marble was carved on these Cycladic Islands. Since then marble and the history of these islands have been closely entwined. From the Archaic period through the end of the Roman period marble from the quarries of Paros, Naxos and Tinos was used to build temples, theatres and public edifices throughout the Mediterranean. It was also during this period that the tools used to quarry, shape and adorn marble evolved into those we still use as sculptors and marble carvers today.
Following the Byzantine period Tinos and other Cycladic islands came under Venetian control for five centuries from 1207 to 1715. This occupation may explain the truly "Golden Age" of Greek painting, sculpture and the arts of the 18th century. When Tinos was finally taken by the Ottoman Empire in 1715 a disproportionate number of its population were superior marble sculptors, painters and artists. With an entire empire now open to them, these Tinos artists and artisans were in demand throughout the Balkans, southern Russia and Asia Minor. Upon gaining its independence from Turkey in 1821 Greece began to rebuild itself with the help of her masterful Tiniot marble workers.
Tinos remains to this day the most famous center of marble carving in Greece. The work of her modern masters can be seen throughout the world. By far the largest number of marble carvers presently working of the restoration of the Parthenon and other Acropolis buildings come from Tinos.