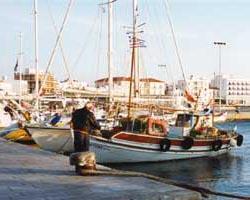 Tinos for Non-Sculptors
Tinos is not only a prime destination for marble sculptors, but your partner might like to join you for an unforgettable holiday experience on the island.
If sun, sand and the pristine Aegean Sea do not suffice, we suggest the following:
Day trips to the neighbouring islands of Andros, Syros and Mykonos on regularly scheduled ferry boats. A forty-five minute boat ride from the harbour of Tinos takes you to Delos, the island where Leto gave birth to Apollo and Artemis. There, you will walk the lanes of the best-preserved ancient city in Greece.
Overnight excursions to the famous islands of Paros, Naxos and Santorini or continue on for a week of discovery on Crete.
Public busses take you out for a day to the picturesque villages for lunch in a taverna or coffee in the public square.
Trekking on Tinos allows one to discover the beauty of the interiors' landscape and numerous archaeological excavations.
Rent a car for the day or by the week to finding the most remote beaches Tinos has waiting for you.
Museums and archaeological sites are everywhere on the island beginning with the Ancient Temple of Poseidon and Amphitriti at Kionia, to folklore collections that most villages are happy to share with the interested traveller.